The 9 Main Causes of Reading Difficulty – Book
by David Morgan, M.Ed. and Sarah Forrest
Published by David Morgan Education (2018)
Do you have a child consistently guessing short, common words instead of reading them? Or maybe you see skipping of words and even whole lines of text. Perhaps reading practice often ends in a sulk or tantrum. And as a result, you are seeing your child's confidence slip away. These are some of the baffling patterns that parents and teachers deal with every day, usually without any explanation. In this book, discover the neurological patterns that drive the 9 main issues faced by children struggling to read. Walk through the main symptoms of each pattern, and how to apply practical solutions to resolve them. Several of the 9 patterns are clearly linked to dyslexia; each chapter explains how to improve or eradicate them.
Available on Amazon.com and Amazon.co.uk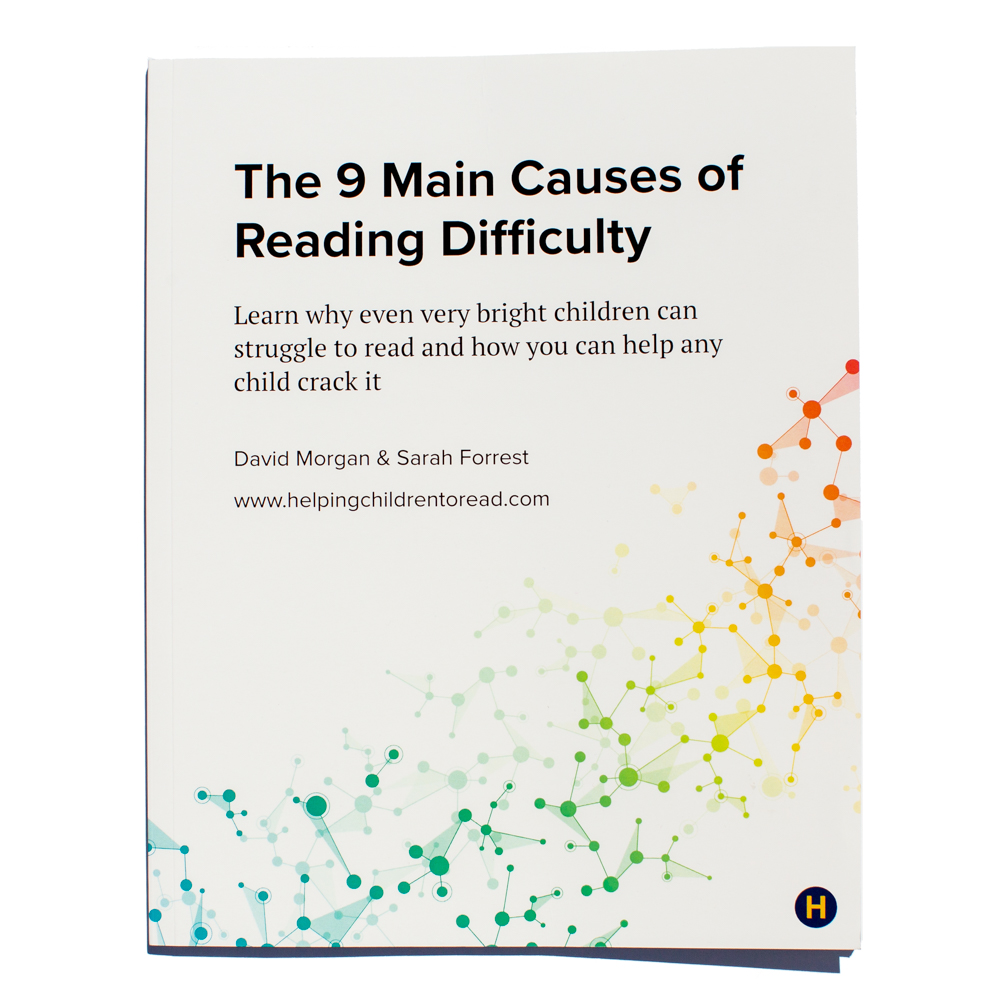 Trainertext Visual Phonics Flashcards
The Trainertext Visual Phonics Flashcards help you teach your beginner or struggling reader how to decode, blend, and acquire good phonemic awareness. Each visual character represents a single phonetic sound, which helps children sound out even irregular or long words. Includes:
52 glossy phonetic flashcards

Perfect for teaching phonics to children ages 4+

Provides visuals for each phonetic sound, as per Trainertext Visual Phonics

Basic instructions and suggested games included in cardset
OUT OF STOCK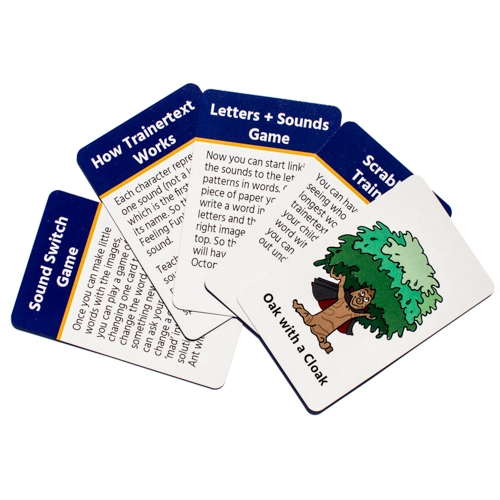 Phonics Games to Play with the Card Set
Game 1: Flash Flip
First, go through the cards asking your child to say the name of the character. Once they have learned them all, go through and ask them to say the sound the characters are representing. The first sound of the character's name is the sound that they are representing.
Game 2: Secret Word Creator
Put 3 cards down in a row and ask your child to sound out the characters and tell you what word you have created. Then it can be their turn to create a word for you!
Game 3: Sound Switch Game
Once you can make little words with the images, you can start building phonemic awareness by swapping the cards to make new words. For example, put the monkey, ant and toad down. Then ask your child to change one of the cards to make the word 'made'.
Game 4: Trainertext Scramble
If you notice your child sometimes confusing vowel sounds, then this is the game for you! Select two vowel sounds, and then select an additional 3-5 consonant sounds. Then, work together to create as many different words with those sounds as possible.
It's okay to create nonsense words! The goal is to get them engaged with manipulating those vowel sounds so that they become more deeply embedded.