How to help your child make reading gains when school's out for summer
by Laura Gordon || 09 May 2018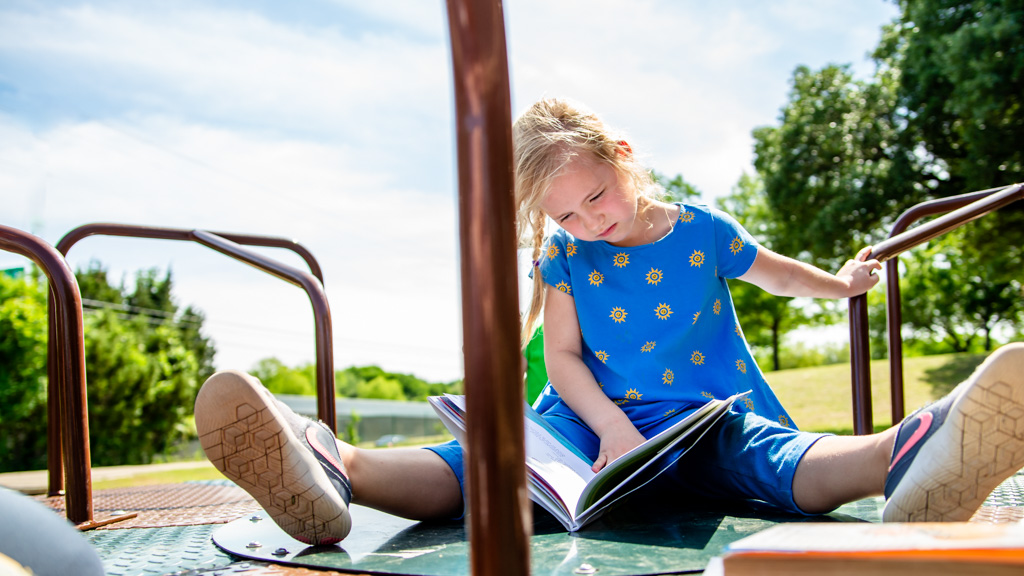 Last night, I attended the local Summer Camp Expo! for my son, who starts first grade next year. The expo featured at least 30 tables representing 30 different summer camps. The options were dizzying.
Although the tables were mixed together, it really came down to two kinds of summer camp: The fun camps, which promised lots of FUN, and the learning camps, which promised nothing of the sort. The fun camps had big posters of children kayaking, swimming, and playing in the sun. The learning camps often had no pictures at all – just brochures with stern warnings about "learning loss."
It was immediately clear which camps my son would have picked – the fun ones! But as a mom, the choice was less clear. I wondered: how focused should we be, as parents, on potential "summer learning loss," and what can we do to help stem the tide? And for children who are already falling behind in reading, how can we use the summer to help them catch up?
I turned to the research, and while some of the research is unnerving, there is reassuring news, too. "Learning loss" might be real—every summer, children likely do lose some of the hard-won skills they acquired during the school year. However, there are real, cost-effective ways you can help make the most of this summer so that your struggling reader finally gets ahead.
And, perhaps most excitingly, it turns out that home-based programs can be just as effective as expensive summer classes for helping kids learn to read.
Below, I talk about the research on learning loss and summer camp, and I offer summertime tips you can use to help your struggling reader. And of course, at Easyread, we have seen that our program can play a crucial role in that process, particularly for children with dyslexia and other reading struggles.  
Summer learning loss: How bad is it?
When you've been out of school as long as I have, you know learning loss is real because you've experienced it firsthand. These days, most parents would be hard pressed to ace a math test or literature exam without plenty of time to brush up.
But this routine forgetting which happens to all of us can carry real consequences for young kids. By the time our children return for school after the summer, most have forgotten several weeks' worth of material from the previous year. As a result, Rebecca Klein reports that teachers waste between 4 weeks and 6 weeks re-teaching course material every fall.
Learning loss doesn't affect all children evenly, either. Instead, research suggests that the kids who are already falling behind are the ones who suffer the most. According to the Iowa Reading Research Center, while high-performing children actually tend to see modest reading gains over the summer, their poorer-performing peers stay nearly even. This means that although these students don't technically drop from their previous performance, they do drop relative to their better performing peers. Without an intervention, these poor performers get stuck on the sidelines while their friends move ahead.
So what can you do to help your child?
First, and most obviously, consider a reading-based summer camp. Unsurprisingly, the research shows that these high-quality summer reading camps are an effective way to prevent learning loss and boost children's reading scores. If you're searching for the right reading camp, keep an eye out for camps that promise "research-based literacy instruction" and offer lots of time for academics. According to the evidence, these are the best camps for boosting reading scores.
But reading camps aren't the only solution, and, surprisingly, they may not even be the best option. In fact, home-based programs have shown to be just as effective. The Brookings Institute notes that when researchers compared home-based programs to their far costlier classroom-based options, they found no statistical difference between the two in terms of resulting progress.  
What qualifies as an effective home-based program? You might be surprised there, too. Even very short, easy interventions were found to be effective to help limit learning loss. The institute's report notes that a simple text message program, which sent children a daily text with reading resources, could be effective for third and fourth graders to boost their reading skills.
Using a Home-based Program: the goal is "Little and Often"
For children who can already read well, a home-based program can be as easy as presenting them with books and asking them to, well, read them. But when your son or daughter isn't reading yet, or when they are struggling with dyslexia, what can you do in a home-based program to help them get ahead?
Again, the research here is reassuring. First, you don't have to spend multiple grueling hours a day to help your child get ahead. Indeed, the research on reading education shows that "Short, intensive bursts of intervention, with daily, targeted support, appear to be more effective than longer term interventions"; the National Educational Psychological Service (see section 4.5) reports that in studies on education, children learning new skills like reading learn more during ten minutes of practice a day for a week than they do by completing one hour of practice for one day.
At Easyread, it isn't surprising to us that a home-based program can help children academically. Every day we help hundreds of children learn to read with short, fun, daily lessons that they complete at home. In as little as 60 to 90 days – or about the length of the average summer break – children can learn to decode words and start reading.
When you stick with a program every day for a course of 6 to 12 weeks, you can expect to see your child make big strides in their abilities. Two or three months may not sound like much to us as adults, but it's a big chunk of time when you're only 6, 7, or 8 years old. Instead of thinking of summer as a short break from school, it might be time to shift our way of thinking. Summer is the perfect opportunity to help kids get ahead.
Additional Resources
Summer camp registration is no fun. While you might have idyllic memories of summer camp, the experience of registering for a camp is anything but ideal. In their survival guide for summer camp registration, Virginia Woodruff and Carol Ramsey joke that every year, parents like me are brought low by the "awful beast that is summer camp registration."
If your family needs extra financial support to help cover the cost of summer camp, check out some of these resource pages for US students:
National Summer Learning Association

–This organization is dedicated to bringing more attention to the importance of educational summers. In addition to providing evaluation tools for existing summer programs, they also campaign for better national resources.

Building Educated Leaders for Life Summer Learning Program

– This program offers full day learning opportunities for children of color from low-income backgrounds. They have strong focus on STEM subjects.

Horizons National

–Low-income children can gain access to free summer programs through Horizons National, which draws on its connections to a diverse group of colleges and private schools to create summer programming.

Summer Advantage USA

–By offering evidence-based instruction, Summer Advantage USA helps students across the country make academic progress during their summer break.
But regardless of which camps you choose for your child – the fun ones or the educational ones – know that you can help them make real progress as readers by committing to short, daily lessons at home.