Famous Dyslexics: Olympic Swimmer Duncan Goodhew
by Sarah Forrest|| 18 April 2017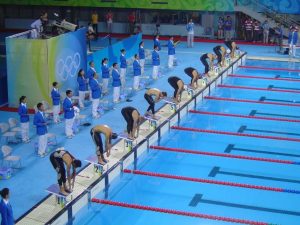 Double Olympic medalist Duncan Goodhew won gold and bronze for Britain in the 1980 Moscow Olympcs. He is famous for his alopecia universalis — he has no hair anywhere on his body due to nerve damage after falling out of a tree as a child.
What is less known about Goodhew is that he also has dyslexia.
He'd always struggled in school as a young child, yet wasn't formally diagnosed with dyslexia until age 13. The stress of reading difficulty, he now says, was "corrosive to the self-esteem".
But he made up for it by dominating in the pool throughout his school career, eventual moving to the States on a full swimming scholarship before making it to the Olympics.
You can read part of his inspiring story here: http://www.express.co.uk/life-style/life/787598/duncan-goodhew-dyslexia-swimathon-olympian-swimming-helped-me-cope